I started playing the saxophone when I was in 4th grade.  Unfortunately, I came from a small town and wasn't really exposed to jazz in my musical education until high school.  Even then, the "big band" consisted of a few kids willing to meet after school to play arrangements of "Jump, Jive, and Wail" and Blues Brothers medleys.  My father, a casual jazz listener, got me hooked on Paul Desmond (an easy bridge from the classical side to the jazz world) and I didn't look back.  I studied jazz in college on my way to obtaining my music business degree, and eventually got myself a job at a jazz club and non-profit organization!
For these lists, we decided to stay away from compilation albums and box sets.  This made it a bit more difficult, as there are some artists that I would've loved to include, but I only had a 'best of' album or something like that.  Anyway, I hope you enjoy my list, even if it is a bit heavy on the saxophones…
15.  The RH Factor – Strength (EP)
I'm not sure why Strength is considered an EP, as it has six tracks for a total of 40-some odd minutes, but either way, it is a great early album from the funk/hip-hop/jazz/soul outfit led by trumpeter Roy Hargrove.  This album, with a great rendition of Eddie Harris' "Listen Here," is grounded a little more in jazz than The RH Factor's later releases, but does feature some R&B and hip-hop vocals on a couple of tunes.  Their final album, Distractions, is almost as good, but focuses almost exclusively on hip-hop and R&B sounds.
14.  Cannonball Adderley with the Bossa Rio Sextet of Brazil– Cannonball's Bossa Nova
Everybody knows that Cannonball kills it when it comes to hard bop and soul jazz, but Cannonball's Bossa Nova shows us that he has the same incredible fire and talent when it comes to jazz-samba.  He is swingin' just as hard here as on any of his quintet or sextet records.  Most of the album is comprised of ballads where Adderley really shows his lyricism, but then we get a couple of nice grooves with "Batida Diferentes" and "Sambops" where he takes off swingin'.
13.  Jimmy Smith – Bashin': The Unpredictable Jimmy Smith
I love Jimmy Smith, but it was hard to pick a certain recording that stood out among the rest.  I usually just pull out all the Jimmy Smith I have and hit shuffle, but that doesn't help me here.  Bashin' couples Jimmy with Oliver Nelson's big band for a killer sound and some great arrangements.  A big band with organ solos? Yes please.  Nelson's "Step Right Up" is the highlight of the record.
12. Dave Brubeck Quartet – Time Out
My dad gave me this album when I was in high school and auditioning for the jazz band.  This was my first real exposure to jazz and is a big part of why I decided to go on with jazz in college and eventually get a job at a jazz club.  Although I know Bob Bennett disagrees, this is still a great album.
11.  Chick Corea – The Mad Hatter
I came across this album in my dad's record collection, and after one listen, I knew I needed the CD to check it out in further detail.  It is a strange album:  not quite jazz, not quite fusion.  It is a genre-defying mix of sounds inspired by Lewis Carroll's Alice's Adventures in Wonderland.  The album features some big names like Joe Farrell, Herbie Hancock and Steve Gadd to name a few, but is definitely an album of arrangements rather than solos.  If you are looking for an intriguing listen, check this one out.  The whole album is on YouTube at the moment, you can check start here.
10.  The Cannonball Adderley Quintet – Mercy, Mercy, Mercy! Live at "The Club"
The 4th track, "Sticks," was enough to get this album on my list, but it helps that the rest of the record is just as good.  "Sticks" features Cannonball at his finest; His solo is probably my second favorite solo in all of jazz (followed only by another by Cannonball: his solo on "Lover Man") and features the greatest lick I have ever heard, one minute and 58 seconds into the tune.  Although the album was actually a studio recording, the invited audience is lively and adds a fun element to the album.
9.  Béla Fleck & the Flecktones – Left of Cool
This album features two new elements for the Flecktones:  Jeff Coffin on saxophones and Future Man singing on a few of the album's tracks…both of which are welcome additions.  The mix of jazz, bluegrass, Middle Eastern music, folk and pop on this record provides some nice change of pace listening.  The virtuosity of the band can't be denied either.  Victor Wooten is just ridiculous on "Let Me Be the One."  Fleck's "Big Country" is a beautiful tune and shouldn't be missed.
I had to have some Miles on here, but it was a tough decision between this and Bitches Brew.  Although I didn't necessarily want to be trite in picking Kind of Blue, someone reminded me that "it is cliché for a reason."  How correct he was.  The pure talent on this record is undeniable, and while it doesn't have to be your favorite Miles CD, it is his best, and the one I listen to most often.
Stan Getz was an early favorite in my jazz listening and this album was a major reason why.  His airy saxophone coupled with Joao Gilberto's quiet, smooth vocals makes the album perfect for a romantic dinner or relaxing by the pool, although I don't think I've used it for either of those purposes… Getz's solo on "The Girl From Ipanema" was my first attempt at transcribing a jazz solo.
6.  Chris Potter Quartet – Lift: Live at the Village Vanguard
The album that introduced me to Chris Potter is a killin' (mostly) acoustic quartet set that hints at the funk fusion sound to come with his Underground band with the opening tune, "7.5," and the closing "Boogie Stop Shuffle."  In the middle, he makes the soprano sax bearable on "Stella by Starlight" and "Okinawa."  Definitely something to check out with Bill Stewart on drums, Kevin Hays on keys and Scott Colley on bass.
Coltrane's second album as a leader includes a killer lineup, swingin' blues, and one great ballad…what more can you ask for?  This version of "I'm Old Fashioned" has to be one of my favorite ballads of all time.  Surround that with some burners and you have yourself a formula for success.
4.  Joshua Redman Elastic Band – Momentum
The Elastic Band is an incredibly talented trio, featuring Brian Blade on drums and Sam Yahel on keys.  Then they just had to go ahead and throw in guests like Kurt Rosenwinkel, Nicholas Payton, Peter Bernstein, Jeff Ballard, Flea, and even ?uestlove to give the group's third release (their first was released under the name Yaya3) even more pop.  This album also features a great cover of Led Zeppelin's "The Crunge," and whenever you throw the mighty Zeppelin into the mix, you know it is going to be good.
3.  John Coltrane – Giant Steps
There isn't much more you can say about a Trane album that hasn't been said before.  An iconic record for many reasons, Giant Steps is a no-miss album…there isn't a track on it that I can't listen to on repeat.
2.  Chris Potter Underground – Follow the Red Line – Live at the Village Vanguard, Ultrahang, & Underground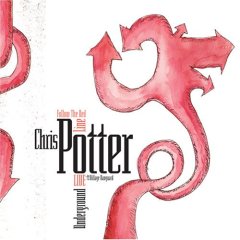 Instead of having my list overrun by the three Chris Potter Underground albums that the band has recorded, I decided to lump them all together.  This is easily my favorite band on the scene right now, consisting of Adam Rogers on guitar, Craig Taborn on the Fender Rhodes and Nate Smith on drums.  Through 2 studio albums and 1 live album, they continue to push the funk/jazz/fusion genre as Chris Potter solidifies himself as the premier saxophonist of his generation. My favorite of the three is Follow the Red Line, but if interested, make sure to buy it through iTunes to get the exclusive track: Radiohead's "Morning Bell" (the best track on the record).
1.  John Coltrane – A Love Supreme
You can't listen to this album and not feel some sort of emotional connection.  Coltrane puts so much emotion and power through his horn, you feel like you are right there with him on whatever journey he was on when he recorded the album.  Never before has so much feeling and love been expressed on an instrumental recording.  It is extremely hard to only listen to one track from this album.  Once started, it has to be played to completion.  The Deluxe Edition is probably worth owning since it contains the one and only live performance of the suite, but the original recordings are the true must-haves.